Puzzle game featuring motivational quotes is now available!
Try our new Quote Blast game, a unique iOS puzzler that mixes 99 geometric brain teasers with motivational quotes.
All puzzles are solvable in three or fewer taps. Perfect for on-the-go gaming!
Daily Motivational Thought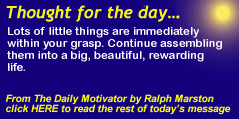 Do you love card games?
Our Picket Fences game consists of 10 rummy-based card games;
each with a home improvement theme!
Available in the App Store and PC game portals!
Click for Picket Fences screen shots.